"Death Among The Hors D'oeuvres." COMICS! Sometimes It's Tough, Tough Toys For Tough, Tough Boys!
2 comments
Posted by: John Kane on March 22, 2017
Categories: Reviews
Tags: 2000AD, Brian Bolland, Chris Standley, Clint Langley, David Millgate, Jim Murray, John K (UK), John Smith, John Wagner, Judge Dredd, Judge Dredd The Mega Collection, Kevin Walker, Malcolm Davis, Michael Carroll, Nick Percival, P J holden, Rebellion, Robbie Morrison, Ron Smith, The 1970s, The 1990s, The 2000s, The 2010s, Xuasus
What would Thunderbirds be like in the world of Judge Dredd? My dog has no nose; why isn't Robbie Morrison funny? What if the messiah was susceptible to weed killer?  What would be the absolute best name for a character in a very cold place? Can a gun be too big? And if war is so terrible why is it so good for John Wagner? All questions I'll probably forget to answer in the latest jolly riverdance through the JUDGE DREDD MEGA COLLECTION.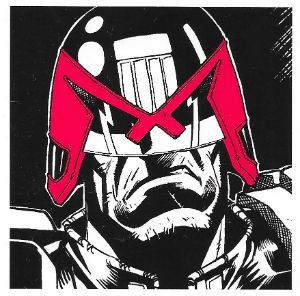 JUDGE DREDD: THE HEAVY MOB by P J Holden
Anyway, this…
(more…)